Chiropractor
Daniel J. Carlow D.C.
Dr. Daniel Carlow chose to be a chiropractor because he loved the idea of being able to help people using a natural approach without drugs or surgery. His chiropractic journey actually began when, suffering with back spasms, a friend recommended chiropractic. He was hesitant at first thinking "How can cracking your back do anything to help." He finally made an appointment and was amazed at how quickly he improved.
It was explained that chiropractic adjustments help to realign the spine taking pressure off the joints, muscles and nerves. This helps the body function better and heal faster. This made perfect sense and with the results he received he wanted to help others with this healing method.
Chiropractors are trained to find misalignments of the spine and extremities. They then use different methods to help realign those areas restoring normal movement to the joints and body. Different modalities, massage, exercises and stretches are used to help the body stay in proper alignment and strengthen it. This all helps the body function better and improves health.
Dr. Daniel Carlow says "I always knew taking medicine to reduce pain was only covering the symptoms of a larger problem. I wanted to know WHY I had the problem and LEARN what I could do to fix it." Chiropractic gave him that answer. He attended Palmer Chiropractic College and after completing a four year degree graduated in 1993. He was licensed as a Doctor of Chiropractic that same year and has been helping people ever since.
Today, Dr. Daniel Carlow is the owner of Islands Chiropractic & Massage and has enjoyed helping people over the last 30+ years through chiropractic, massage and physical medicine. He loves getting people get out of pain fast and teaching them how to keep themselves healthy.
Dr. Daniel Carlow is married to his beautiful wife, Anne and has 5 children. He keeps active with his family by biking, hiking and playing a variety of sports. He has lived in Gilbert, AZ since 1994 and loves the small town feel and wonderful people.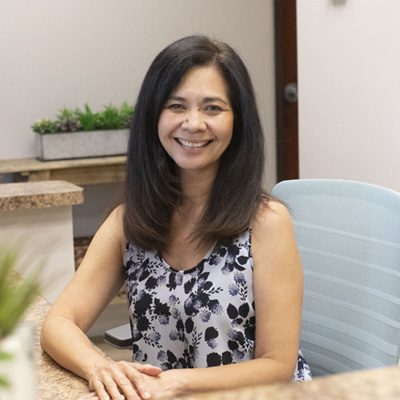 Anne is the proud mother of 5 kids and wife to Dr. Carlow. She enjoys family time spent watching the kids participate in their various activities, playing board games and exploring the outdoors.
In her downtime, you can find her reading a good book. What she enjoys most about working in the office is getting to know people. It is always great to see people leave healthier and happier! Front Desk Assistant
Karen
Karen has 16 years of experience working in the medical field, which helps her live out her passion to help others. Whether it is an individual person or her community she is always happy to help others in need.
She has a big blended family of 6 kids, so when she isn't serving others. She enjoys creating memories with her family or planning the next family vacation. Some of her hobbies include kayaking, road trips, bike riding, working out, or just grabbing coffee and catching up with a friend.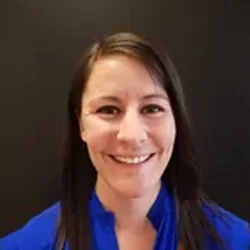 Massage Therapist
Gabrielle Virgin L.M.T.
Gabrielle Virgin LMT has a passion for helping others meet their health and healing goals. She is well versed in several forms of massage that aid in accomplishing those goals.
Utilizing techniques that include deep tissue massage, cupping therapy, injury rehabilitation massage, neuromuscular massage and lymphatic massage, clients are able to heal and start living a healthier pain free lifestyle. In addition, Therapeutic Swedish massage and prenatal massage are modalities that are utilized to keep clients healthy.
Gabrielle loves to stay active with her Border Collie named Ollie! They go on walks, hikes, runs and swim together. In her personal time, she enjoys going to the gym, doing yoga, aerial yoga and Lyra. Originally from the East Coast, the weather, happy friendly faces and good views brought her to Arizona to pursue her career as a Massage Therapist. Her energy is peaceful and happy!
OFFICE HOURS
---
Monday
8:30am - 5:00pm

---
Tuesday
8:30am - 5:00pm
---
Wednesday
8:30am - 5:00pm
---
Thursday
Closed
---
Friday
8:30am - 5:00pm
---
Saturday & Sunday
Closed